CHARITY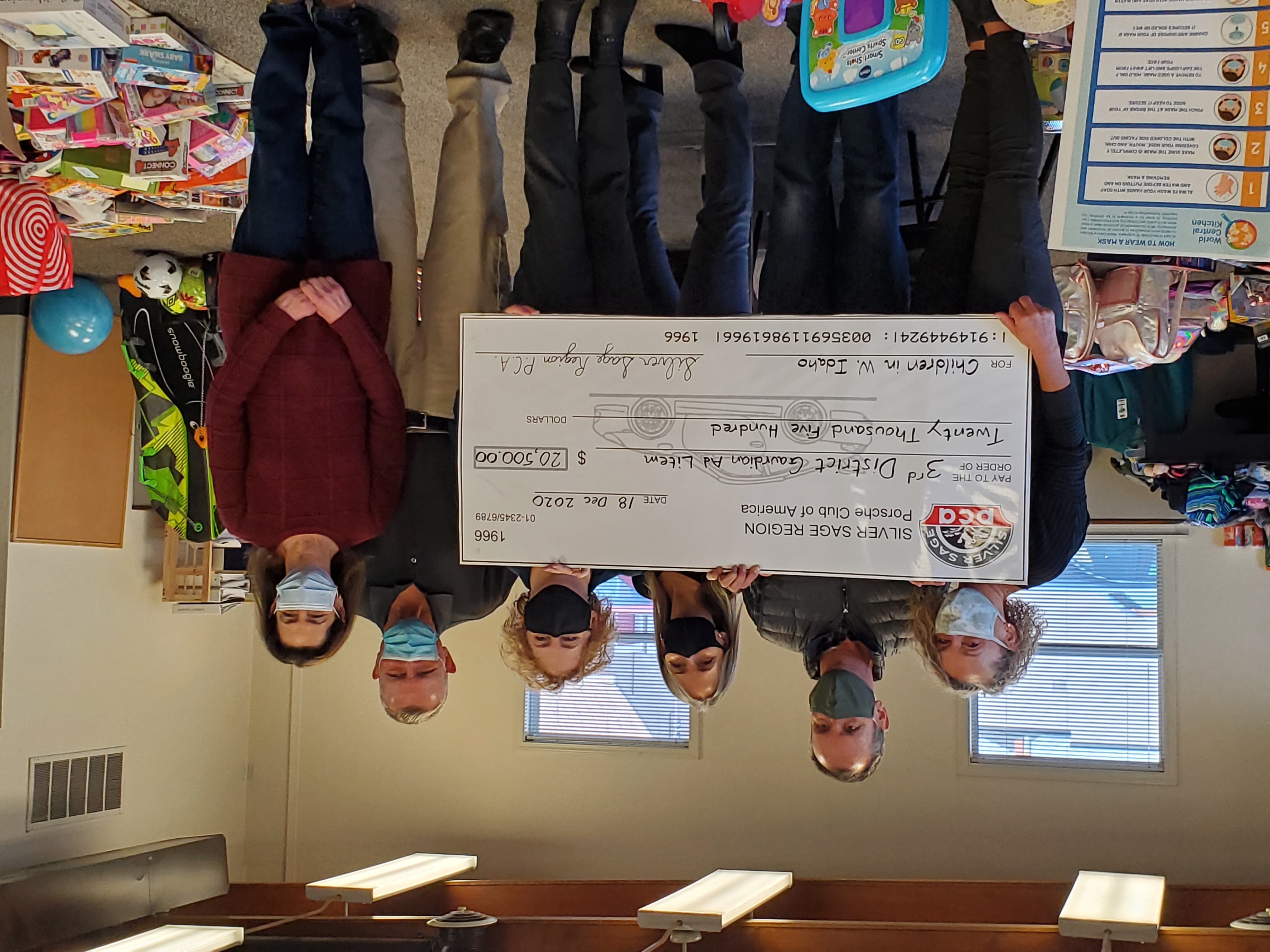 To nominate a Charity for consideration please complete the form at the following link!
https://silversageporsche.com/charity-nomination/
Porsche Club of America members do more than drive cars!
The local Silver Sage Region's 500+ members have donated over $233,000 to community charities since beginning in 1997. 2020 ended on a high note for the Silver Sage Region of the PCA when our club finished up the annual charity drive in December resulting in a total contribution to the 3rd District Guardian Ad Litem Program of $20,500.
Prior to the holidays, Paul and Lori Kaczmarek and Andrew and Monika King delivered the proceeds to the charity at their offices in Caldwell and discussed with their Executive Director, Christine Walker, the plan for use of these funds in 2021 to benefit western Idaho children who are in foster care. The monies we have raised will make a big difference for this local small non-profit organization and the children they serve.
Previous recipients of charity efforts are listed below. Selection of benefit organizations is based on club member requests and sponsorships.
Each year the Porsche Club of America selects a region for its Public Service Award to recognize fund raising and community service activities. The Silver Sage Region efforts have been rewarded with a first-place trophy, as the best of 144 regions in the nation at the Porsche Club of American National Convention in 2008, 2012, 2016 and 2017! In 2018 the region received honorable mention and brought home the 3rd place National trophy in 2020. All awards are incredibly significant recognition for the community support and involvement from Porsche owners.

---
2020 Charity Selection – 3rd District Guardian ad Litem Program
Sponsored by Paul and Lori Kaczmarek
Purpose/Mission: Committed to representing the best interests of abused and neglected children in the Third Judicial District of Idaho. They recruit, train, and supervise volunteers who advocate for this vulnerable population in our communities, so that they can thrive in safe, nurturing, and permanent homes. The Third Judicial District in Idaho includes Adams, Washington, Payette, Canyon, Gem, and Owyhee counties.
Background: Founded 2016. The Third District Guardian ad Litem program is part of Idaho's network of seven CASA Programs (Court Appointed Special Advocates). They launched in November 2016 after being joined with 4th district (including Ada county) for nearly 20 years. They select, train, and guide volunteer Guardians to represent, in Idaho's Courts, children who have been removed from their family homes due to concerns about abuse or neglect. They are funded primarily through private donations, however in the State of Idaho, there is a mandate for every child in Protective Custody to receive a Guardian ad Litem if under the age of 12. Therefore, these programs in Idaho do receive a collective grant from the State yearly that is split between the 7 districts based on the number of volunteers each program has. About 90% of revenue is from state grant funding/state Legislature appropriated money. The need is greater than this funding provides.
They are the voice for children taken into State custody, under the Child Protective Act. They get to know their circumstances and then they advocate on their behalf, speaking up for what is in their best interest for them to thrive in a safe and permanent home. They compile information and determine what is in the best interest for a child's ultimate health and happiness.
They have a team of Board members, Staff, and 68 Volunteers and served 753 children last fiscal year. In 2017, they served 664 children. They have relationships with Foster families, Judges, Attorneys, Social Workers, the Department of Health and Welfare, Law Enforcement officers, community service providers, and most importantly, children. They drive over 100,000 miles each year to visit each child, (meet with each child at least once a month), attend court (typically 4 times/year/child), & meet with family, teachers, etc.
Proposed use of the awarded funds: $25,000-$30,000 to purchase a used all wheel drive vehicle and pay for mileage reimbursements.
A video presentation by 3rd District Guardian will be posted in the coming months.
---
Past Silver Sage Charity Contributions
2020
3rd District Guardian ad Litem Program
$20,500
2019
Wish Granters
$22,000
2018
Feed the Gap
$26,500
2017
The Jesse Tree
$23,000

2016
Miles of Smiles
$16,000
2015
Book It Forward
$14,000
2014
Garden City Community Clinic &

Boise Community Stars

$14,500
2013
HODIA (Summer camp for diabetes-afflicted kids)
$11,700
2012
Organization Assisting the Homeless Student (OATHS)
$12,000
2011
BEDS (Hospital Beds for Veterans)
$11,500
2010
Idaho Foodbank's Backpack Program
$7,700
2009
Women's and Children's Alliance
$10,400
2008
Terry Reilly Health Services
$4,500
2007
Make-A-Wish
$15,000
2006
Toys for Tots
(toys)
2005
Family Advocate Program
$3,000
2004
Make-A-Wish
$5,000
2003
Idaho Foodbank
$3,800
2002
Idaho Foodbank
$4,000
2001
Idaho Foodbank
$3,100
2000
Idaho Foodbank
$3,250
1999
Toys for Tots
(toys)
1998
Idaho Foodbank
$1,350
1997
Idaho Foodbank
$385