CHARITY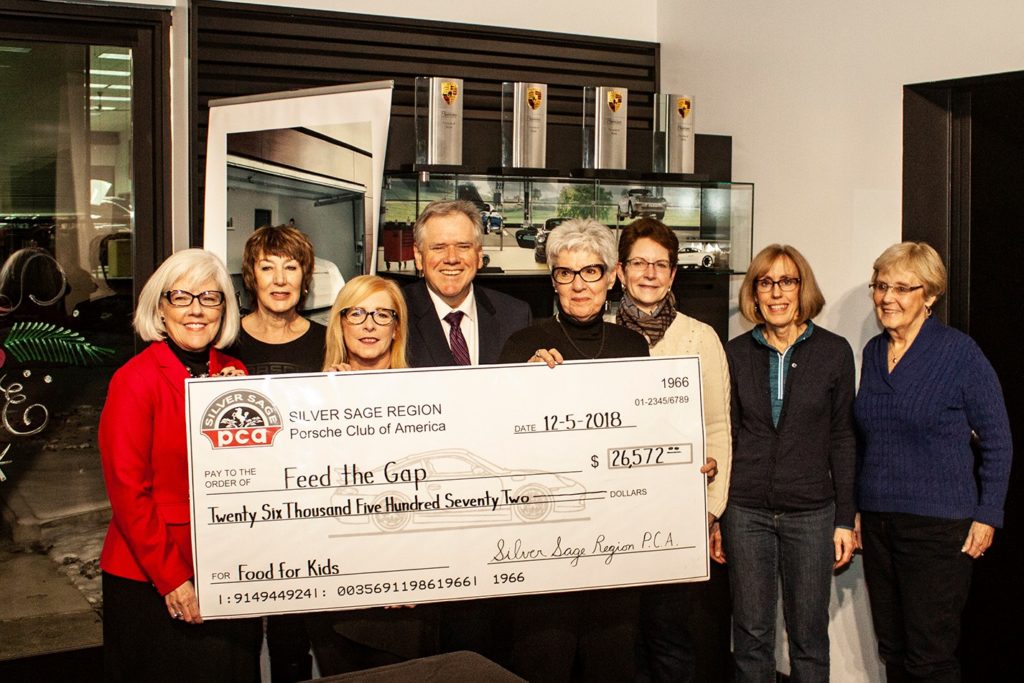 Porsche Club of America members do more than drive cars!
The local Silver Sage Region's 500+ members have donated more than $165,000 to community charities over the past 12 years. In 2018, donations exceeded $26k as members rallied in support of Feed The Gap, a non-profit organization dedicated to feed hungry children in Idaho schools who do not qualify for free or reduced breakfast and lunch, provide food on weekends for hungry children, and assist Idaho communities to create Summer Feeding Programs.
Previous recipients of charity efforts have been; The Jesse Tree, Miles of Smiles, Book it Forward! Idaho (BiF!I),The Community Stars, The Garden City Community Clinic, Make-A-Wish, the Idaho veteran's Assistance League with Beds for Veterans, Backpacks for Kids through the Idaho Food Bank, the Women and Children's Alliance, and Terry Reilly Health Services. Selection of benefit organizations is based on club member requests.
Each year the Porsche Club of America selects a region for its Public Service Award to recognize fund raising and community service activities. The Silver Sage Region efforts have been rewarded with a first-place trophy, as the best of 144 regions in the nation at the Porsche Club of American National Convention in both 2008, 2012 and 2016!
The 2019 Charity Auction is planned for Saturday, October 26th.  For more information, please contact Charity Chairman, Molly Cuddeford at Charity@SilverSagePorsche.com
---
Silver Sage has selected Wish Granters as the 2019 charity organization. This organization was founded in 2010 and its mission is to grant wishes to adults who have terminal illnesses and give them and their families a memory they can have forever. It is the only adult wish-granting organization currently in Idaho and presently serves Ada and Canyon Counties. Over 300 wishes have been granted since founded. The average age is 47 years old and the average cost of a wish last year was $1,750. The predominant wish is generally for travel expenses to visit friends, family, or a vacation destination.
Please support this charity and attend the club's activities sponsoring this organization. The following activities are scheduled. Please go to the Club's calendar for more details.
July 15th: Dinner at JUMP (downtown Boise)
October 4-6th : Oktoberfast (3-day event)
October 26th: Charity Dinner and Auction
---
Past Silver Sage Charity Contributions
2018
Feed the Gap
$26,500
2017
The Jesse Tree
$23,000

2016
Miles of Smiles
$16,000
2015
Book It Forward
$14,000
2014
Garden City Community Clinic &

Boise Community Stars

$14,500
2013
HODIA (Summer camp for diabetes-afflicted kids)
$11,700
2012
Organization Assisting the Homeless Student (OATHS)
$12,000
2011
BEDS (Hospital Beds for Veterans)
$11,500
2010
Idaho Foodbank's Backpack Program
$7,700
2009
Women's and Children's Alliance
$10,400
2008
Terry Reilly Health Services
$4,500
2007
Make-A-Wish
$15,000
2006
Toys for Tots
(toys)
2005
Family Advocate Program
$3,000
2004
Make-A-Wish
$5,000
2003
Idaho Foodbank
$3,800
2002
Idaho Foodbank
$4,000
2001
Idaho Foodbank
$3,100
2000
Idaho Foodbank
$3,250
1999
Toys for Tots
(toys)
1998
Idaho Foodbank
$1,350
1997
Idaho Foodbank
$385